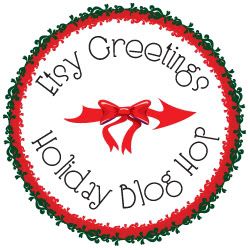 This post is part of the EtsyGreetings Team Holiday Blog Hop.
Our theme is Handmade Holiday.
Happy reading!

::::::::::

I've always had many handmade traditions around the holidays, I particularly enjoy making handmade gifts and wrapping them in creative ways. But now that we have a toddler in the house, our traditions are expanding in many new directions.
As a
Pinterest
lover, I've found an enormous amount of great holiday do-it-yourself ideas for the little guy. One that I'm especially excited about is the idea of making a felt tree for him to decorate (and hopefully it will be a terrific distraction from all the sparkly ornaments on our full-size Christmas tree!). I'm hoping this will be a fun holiday tradition for at least a few more years.
The tree works on the principle that "felt sticks to felt" and is very similar to "story boards" you may have encountered in the children's library as a kid. I cut a generous-sized Christmas tree from 36" wide green felt purchased at Joann Fabric. I went for the highest wool content I could find, in this case, 35%, because really the guiding principle here is "wool felt sticks to wool felt". And in fact the "stickiness" property is significantly higher the more wool content you have. Because of this, the artificial craft felts are not great for this project.
As it turns out, felt with any wool content is hard to find locally in great colors. So naturally I turned to
etsy
and of course, found an excellent seller with a superb collection at
Felt on the Fly
. My felt choices arrived last week and I can't tell you how gorgeous they are. I had no idea felt could be so beautiful.
Then it was time to cut and design ornaments! I love a little in-front-of-the-tv project, so decided to sew the layers of my felt ornaments by hand. I know there are probably some great alternate options out there using different adhesives if you're short on time.
And that was it! Hang the tree on the wall, give the little guy the ornaments and encourage him to "decorate"! Happy kid, happy parents ... and a happy holiday!
There are more than 20 great Etsy paper artists participating in this blog hop! To visit the next blog in the hop, just click the right arrow below! To see a list of everyone that's participating, click the round logo to be taken to the EtsyGreetings blog.